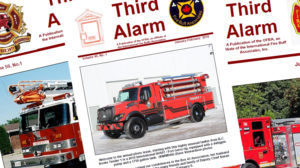 The "Third Alarm" or T/A has been published 6 times a year since the inception of the OFBA in 1971. In 2005 the first colour cover was published and by 2012 we moved into the digital age by sending the T/A out via e-mail. The electronic version is all colour and can be upwards of 40 pages where the print black and white version with the colour cover is usually only be 24. Members have a choice between print, electronic or BOTH versions.
One of our club founders, John L. Holden, was also the first editor from 1971 to 1973. John remained as the producer for a number of years afterwards. John passed away in December 2018. Our longest serving editor, Walter P. McCall, diligently produced the newsletter for 37 years, stepping down at the end of 2010. Desmond Brett took on the role at the beginning of 2011 and is still serving as Third Alarm's editor to this day.
Some members still prefer the mailed edition however, and some want both. Below is the January-February 2020 electronic edition as a sample of what is provided. We do have all the back issues all the way back to the originals of the newsletter available in electronic format.
Get in Touch.
We always like to hear from Fire Buffs locally and around the globe. Feel free to contact us by e-mail below or by mail and we'd be happy to communicate with you!
By Mail
Ontario Fire Buff Associates
PO Box 56, Don Mills Station
Don Mills, Ontario, Canada
M3C 2R6