About the Ontario Fire Buff Associates
History of the OFBA
At the 1968 SPAAMFAA national convention in Syracuse, NY a number of buffs from Southern Ontario happened to become acquainted with each other and subsequently decided that it might be a good idea to form a SPAAMFAA chapter or similar Buff group north of the border.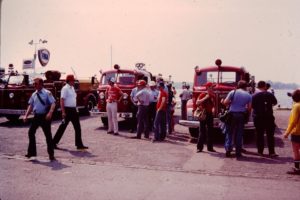 It was, however, three years before the Ontario Fire Buffs Association came into being with the thought of having a central connecting point which would not only attract people with similar interests in the fire service but offer them the opportunity to share information about the fire services in Ontario through a bi-monthly newsletter known as the "Third Alarm".
In 1979, the Association had the opportunity to obtain ownership of a piece of fire apparatus and for legal reasons was incorporated under our present name, the Ontario Fire Buff Associates, more commonly known as the OFBA.
Our members come from many walks of life and their "common interest" in the fire service is very diverse. "Interests" include canteen / rehab services to fire departments; fire department histories; fire and apparatus photography; collecting and preserving antique fire apparatus and equipment; attending fire service musters; shoulder patch collecting, monitoring fire service Communications and building / collecting scale model fire apparatus.
Executive Officers 2022-2023
President

Robert Rupert

Vice-President

Rick Loiselle

Secretary

Greg Brown

Treasurer

James Stronach

Membership

Robert Herscovitch

Director

Mike Johansen

Director

Desmond Brett

Director

Carolyn Wignall

Past President

Rick Loiselle

IFBA Region 10 VP

Carolyn Wignall
Our Objectives
The dissemination and collection of knowledge of the Ontario fire service, past, present and future.
The encouragement of friendship and interchange of ideas among its members and the promotion and maintenance of high standards of conduct among its members.
The encouragement of fire departments and / or individuals to retain and restore vintage firefighting apparatus and equipment and to preserve all matter pertaining to the history of the fire service.
The assistance to fire departments in the fields of fire prevention, fire department displays, photography or any other way requested.
The publication of a bi-monthly newsletter, to be known as the "Third Alarm"
The assistance in the creation and support of a fire service museum.
Get in Touch.
We always like to hear from Fire Buffs locally and around the globe. Feel free to contact us by e-mail below or by mail and we'd be happy to communicate with you!
By Mail
Ontario Fire Buff Associates
PO Box 56, Don Mills Station
Don Mills, Ontario, Canada
M3C 2R6