Adieu To Our Vintage Fire Trucks
Over the years the OFBA has managed to obtain ownership of two pieces of antique fire apparatus with the intent of restoring and maintaining them in operating condition for display at various public functions including fire prevention activities.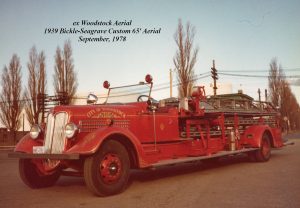 In 1978 we acquired a 1939 Custom Bickle-Seagrave 65′ open cab aerial ladder truck formerly in service with the Woodstock, Ontario Fire Department. Then, in June, 1980, we acquired High Pressure Monitor #2, a 1949 American LaFrance Model 700-BJC High Pressure Monitor and Hose Car, Register #L-3835 from the City of Toronto. This truck was one of only two ever built, both for the Toronto FD.  HPM -2 saw service in the Lombard Street Fire Hall until the opening in 1970 of the new No. 5 Station located at 207 Front Street E.  Its twin, HPM -1 responded out of No. 1 Station on Adelaide Street W in the city's financial district.  For nearly 30 years, these high pressure rigs responded on the first alarm to all downtown boxes.  Where only one initially responded, its mate always followed when a second alarm was struck for the same box.
At a fire, the High Pressure Monitors ("HPM's") would lay big hose lines in from the nearest high pressure hydrant and position themselves strategically in front of the burning building.  Each of these rigs carried 1,100 feet of 3-1/2 inch boat hose and 600 feet of conventional 2-1/2 inch line.  The HPM's had the ability to discharge 2,700 Imperial Gallons per Minute (IGPM) when connected to a high pressure hydrant that was supplying water at 300 PSI.  Their distinctive rust-brown streams were a common sight at downtown fires for nearly 30 years.
In 1976, the crew of High Pressure No. 2 was reassigned and the rig was placed in reserve service although it threw "big water' at two more major fires over the following two years.
Both of these  High Pressure Monitors had long and distinguished fire service careers, culminating at the spectacular
Eaton's Annex fire in May 1977 when HPM-2 was special-called out of retirement to hurl large streams at one of the worst conflagrations in Toronto's history.  The final fire to which both High Pressure Monitors again responded from retirement was to the old Adelaide Street Post Office in June of 1978, which was a stubborn third alarm.
Despite their final glory, the High Pressure Monitors were regarded as an anachronism.  The high pressure system was deemed too costly to maintain, spelling the end of an era.  HPM -1 was disbanded on July 30, 1978.  Although the high pressure water system was briefly cross-connected to the city's domestic water system minus its own pumping station, the system was shortly thereafter taken out of service for good.
HP-2 as it was simply known, was acquired by the Ontario Fire Buff Associates ("OFBA") in June 1980.  It has seen a major restoration and remains in operating condition.  It is considered a parade favourite and has thrown water at a number of Ontario musters.
In the summer of 1984 storage for both trucks was found at the Canadian Firefighters Museum in Port Hope and, in November, 1984, ownership of the aerial was ceded to the Museum.
In 2009 HPM2 was moved to the quarters of Box 43 in Hamilton and, in 2014, it was moved to Toronto Fire Station 432 for repairs. Unfortunately, Box 43 had to vacate their quarters and with further storage and maintenance issues facing the Associates it was decided to offer the apparatus back to Toronto, as per the original agreement to purchase.
On Saturday, October 29th, 2016 a number of OFBA members and friends attended at Station 432 on the East Mall to help with the cleaning of the truck for its transition back to the department.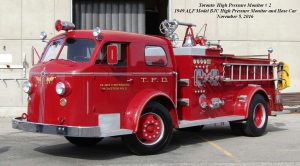 The truck was turned over to Toronto Fire Services Deputy Fire Chief Debbie Higgins and Maintenance Division Chief Rob Anselmi at our Annual General Business meeting, held at the Toronto Fire Academy on Saturday, November 5, 2016, along with a newly-made cover to help keep it protected for many more years.