Our Newsletter
From Mimeograph to Digital Format, we have come a long way.

The "Third Alarm" or T/A has been published 6 times a year since the inception of the OFBA in 1971.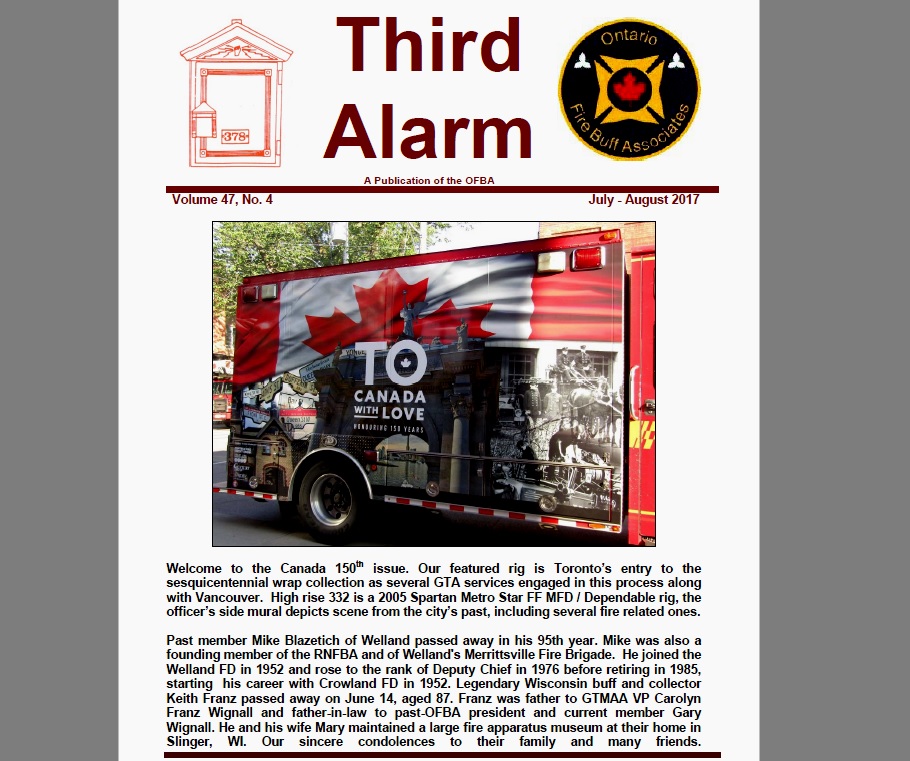 One of our original club founders John L. Holden, was also the original editor from 1971 to 1973. John remained as the producer for a number of years afterwards. John passed away in December 2018.
Our longest serving editor, Walter P. McCall, diligently produced the newsletter for 37 years, stepping down at the end of 2010.
Desmond Brett took on the role at the beginning of 2011 and is still serving as Third Alarm's editor.
2005   The first colour cover was published this year.
2012   Heralded in our first full colour digital, electronic edition which became available for members and subscribers who where connected to the Internet. The electronic edition is usually 36 pages and is colour throughout.
Some members still prefer the mailed edition however, and some want both.
The mailed edition runs to 20 pages except for the January-February newsletter, which totals 24, and only has the front page in colour.
The club has also published two short histories of Canadian Fire Apparatus Builders;
'The Bickle Story' and 'The Canadian LaFrance Story'.
Both of these are now considered collectors' items.