Want to see and chat with others, use our Jitsi Meet platform for interactive video and voice meetings. This will offer you a visual and chat mode to share your interests in fire buffing.
The format allows for multiple visitors to chat and see each other. If you are using a desktop computer, you will require some type of high-speed internet connection. There are no downloads required, however you will require Google Chrome or Firefox as your web browser, a web camera and a microphone and speakers.
Then just click on the above round icon and connect with other members who may be in the site, something like in the following picture.
Nobody in the site, send friends the link and ask them to join you.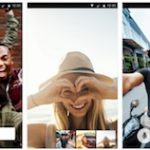 For Our Mobile Users, as of May 2017 we are available through  Android  or iOS APPs!!  The "iOS" app is designed for both iPhone and iPad. Click on the above highlighted links for your device.
These instant video conferences, will efficiently adapt to your media devices scale.
To cut down on data usage and save battery life you may wish to communicate using audio only.
To connect with others simply share the conference URL. (web address)
This program will also allow you to switch between the front and back of your camera.
To download Google Chrome or Firefox Apps click on this sentence.